How To Transform Your Life - 12 week mentorship program hosted by NowBloom Transformative Life Coach & Mentor Sarah Martens

Sarah is passionate about coaching simply because she was able to transform her own life from a path of hopelessness, lack of purpose, and destruction into a life of purpose, clarity, and peace.

Sarah's love for self-development inspired her to create this mentorship program so that she can share all of her knowledge in how she was able to transform her life and her client's lives.
Throughout this 12 week program Sarah will be releasing 1 video teaching a week between 20-40 minutes each teaching. She will also assign a task for each week, with handouts and exercises she has created as well as email follow-up every week with her students.

There is also an option for personal coaching either once every 2 weeks or once a month.

The program is organized into 1 theme a month with 4 teachings under each theme

Month 1: Discovering who you are

During this first month you will be covering the importance of discovering who you are and just how you do that, you will be gaining clarity about why you operate the way you do based on your values and beliefs, you will be learning to love your own company, discovering your "why" and passions, and lastly laying out a vision and plan for your life. We can often feel confused about what we want or who we are if we haven't taken the time to dive into the fibres of our being.

Month 2: Healing from your past

During this month you will be focusing on identifying your limiting beliefs about yourself, and the world around you, you will be uncovering any unforgiveness in your life, the importance of forgiveness, deep journalling, choosing new beliefs, and ultimately forgiving and releasing. There is so much power in forgiveness and until we're able to identify it and heal it we will attract the same scenarios into our lives.

Month 3: Blooming into your destiny

During this month you will learn about the importance of declarations and positive self-talk, how to create your own personalized declarations and how to uncover the destiny God has for you, vision board creating, environmental and personal life clean up, learning to set boundaries in relationships, and lastly discussing meeting God, the meaning of life, and our true purpose. It's crucial to also take the practical steps to transforming our lives. The very last teaching will be Christian based on meeting God, this is an optional teaching if you are not comfortable or open to discovering this aspect. However I encourage you to listen with an open mind if possible.

"I used to think life was grey. I was confused about who I was, who I was suppose to be, what the meaning of life was and my purpose. But now life is black and white. I understand my purpose, the meaning of why we're here, and what we need to do to live lives of purpose and peace. It's my duty to share this with the world, and I hope you will join me." - Sarah
Your Instructor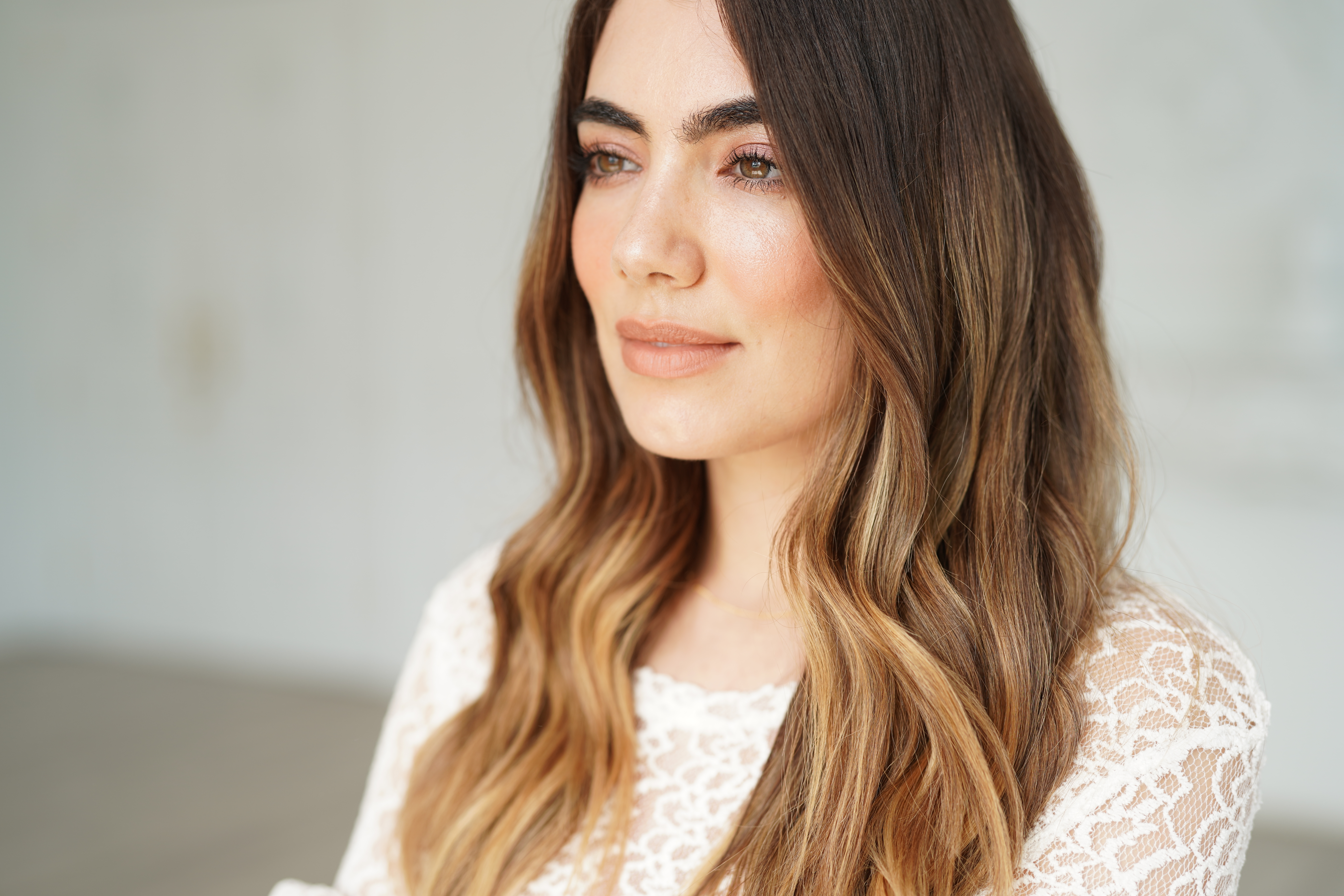 "I can't pull people out of cages. But I can unlock them."
- Sarah Martens
Sarah Martens is just 27, but she speaks from experience. From as young as she can remember, she dealt with anxiety and depression, fuelled by trauma and a poor self-image that reflected in the negative relationships and circumstances she attracted.
Then at age 21, something clicked. She finally accepted that she had to take full responsibility for her circumstances – "which was so empowering, because that meant I could change them."
Sarah embarked on an aggressive pursuit of self-development. She found that facing yourself is difficult and painful – but that not facing yourself is worse. The changes that started to take place in her life – healthier relationships, better work, being a top-10 finalist for Miss Universe Canada 2018 and most recently becoming an accredited life coach – were not a sudden miracle. They were a process, driven by her newfound commitment to input only good things, always show up, never be defeated by disappointment – and live to have no regrets.
"My life isn't perfect. No one's is. My mission every day is to be real about my very imperfect life, and walk my talk. I do my best to practice what I preach, because I can't teach others to do something I'm not doing in my own life. So I'm constantly applying my training to myself and always learning – and at the same time, I'm not trying to convince anyone that I've got it all figured out."
"That's not to say I'm not aiming really high: my vision is to leave a positive mark on humanity by helping people all over the world be free from their limiting beliefs. It's all about unlocking those cages."
Sarah practices as a Transformative Life Coach certified as an Integrative Wellness and Life Coach - the discipline that addresses all four of the body's systems – mental, emotional, physical and spiritual – at the core of every personal issue. Sarah also offers an online 12 week mentorship program beginning September 30th 2019, teaching on how she transformed her life, walking you through the same steps with weekly videos, personal coaching and assignments.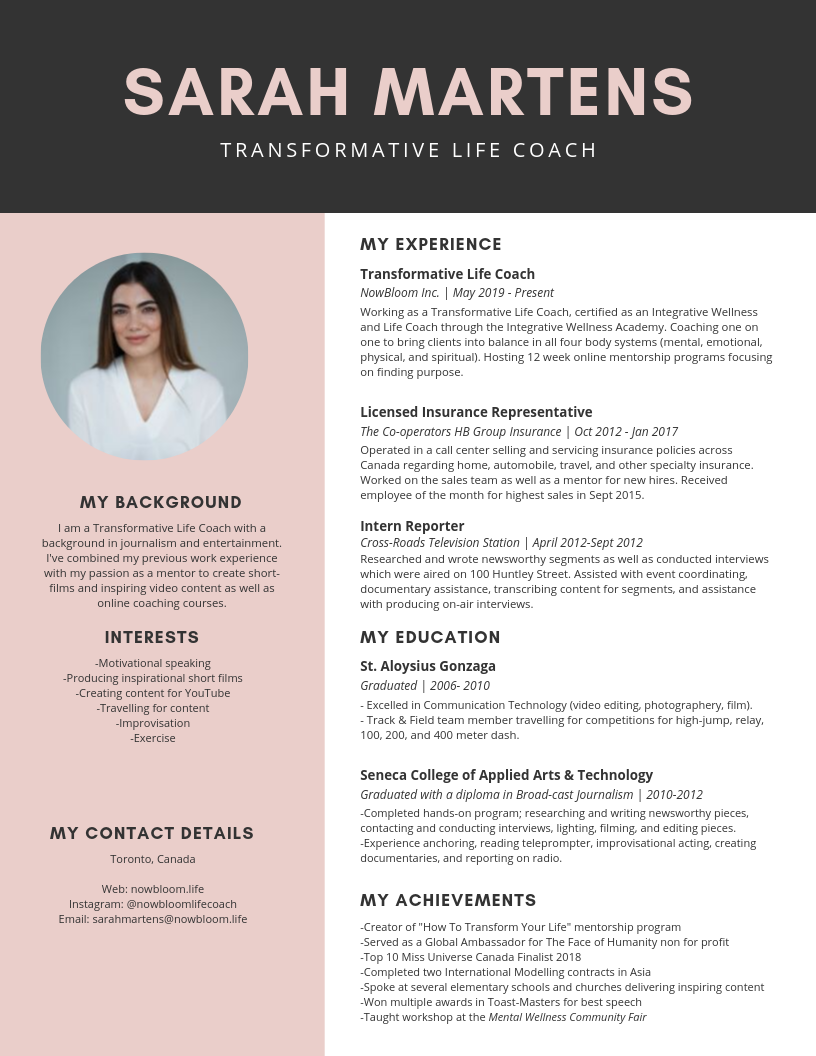 Course Curriculum
Month 1 - Discovering Who You Are
Available in days
days after you enroll
Month 2 - Healing From Your Past
Available in days
days after you enroll
Month 3 - Blooming Into Your Destiny
Available in days
days after you enroll
Frequently Asked Questions
When does the course start and finish?
This course starts Monday September 30th 2019 and runs until Friday December 20th. This is a 12 week mentorship program where the videos will be recorded and uploaded each week to ensure they are applicable to the students enrolled. The program will start again in January 2019 if you missed this round!
How long do I have access to the course?
After enrolling, you have unlimited access to this course for as long as you like - across any and all devices you own.
What if I am unhappy with the course?
We would never want you to be unhappy! If you are unsatisfied with your purchase, contact us in the first 30 days and we will give you a full refund.
What is the purpose of this course?
This course was created for those who are looking either to transform their lives or just over-all improve themselves and dive deeper into self-development. It has been created to restore you, give you clarity, and help you discover your purpose!
If you're looking for a sign, this is it. We were each designed uniquely with a plan and purpose for our lives, but sometimes we struggle with how to find that purpose. This course was designed for you, I'm sharing my heart and soul through my struggles and helping you to conquer yours. I'm doing this course along side you, recording and uploading each teaching every week according to your needs so that by December 2019 you are going to come out of this course restored with clarity and an understanding of who you are and what you were made for in this life.
"I hope you live a life that you are proud of. If you find that you're not, I hope you have the courage to start all over again."
- F. Scott Fitzgerald